The PBIS Team at Franklin Middle would like to welcome all of our new students and families to the 2016 ­- 2017 school year! Our team is so excited for the new school year. We have many rewards and celebrations in the works for the students throughout the year. Please check back frequently for updates and more information.
Follow us on Twitter @FalconsPBIS
for Falcons Spirit Friday Reminders and Special Announcements
PBIS (Positive Behavioral Interventions and Supports) is a proactive approach to establishing the behavioral supports and social culture in a school setting. It is needed for all students in a school to achieve social, emotional and academic success. One of the foremost advances in school-wide discipline is the emphasis on school-wide systems of support that include proactive strategies for defining, teaching, and supporting appropriate student behaviors to create positive school environments.
Franklin Middle follows the tenet of 'REACH for New Heights'. REACH is an acronym for our school­-wide expectations. Within each expectation falls a set of rules, or observable behaviors, that the students are taught, modeled, and then expected to display. These behaviors are expected in all areas of the school and at all times of the day. Click on the following link to review the matrix for our school:
When students demonstrate these positive behaviors from the matrix, they can be rewarded with a
BEN BUCK
by any staff member. This is our ticket system and as students collect Ben Bucks, they can be used to purchase items from the Falcons Nest. Tickets are also entered into special raffles throughout the year.
Celebrations are events or assemblies that are held for the entire school to participate in to recognize the successes and hard work of the school community. We have two celebrations during the year. We host a Holiday Minute To Win It assembly and an end of the year Field Day.
Rewards are an incentive for students to exhibit positive behaviors, and can also come in the form of a special assembly or activity. Students need to meet a set criteria within the pre-determined time frame in order to participate. The criteria to participate in the special reward activities this year are:
Less than 5 Minor Referrals OR Less than 2 Major Referrals
If this criteria is not met, those specific students will be assigned to an academic remediation room while students who meet the criteria participate in the reward activity. This year's special reward will be a movie presentation and will occur three times throughout the year. To show students the reward they can earn, we surprised the whole school with this summer's blockbuster, The Jungle Book.​ Students and staff were able to sit back, relax, gasp, and laugh after a fantastic first week back to school.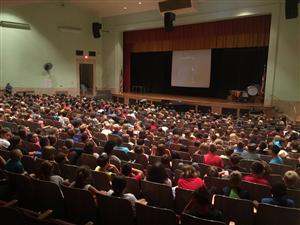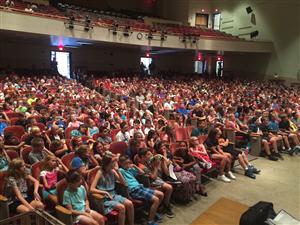 Celebrating a fantastic first week at FMS with The Jungle Book