Return to Headlines
'Market Day' Gives 5th Graders a Chance to Be Small Business Owners for a Day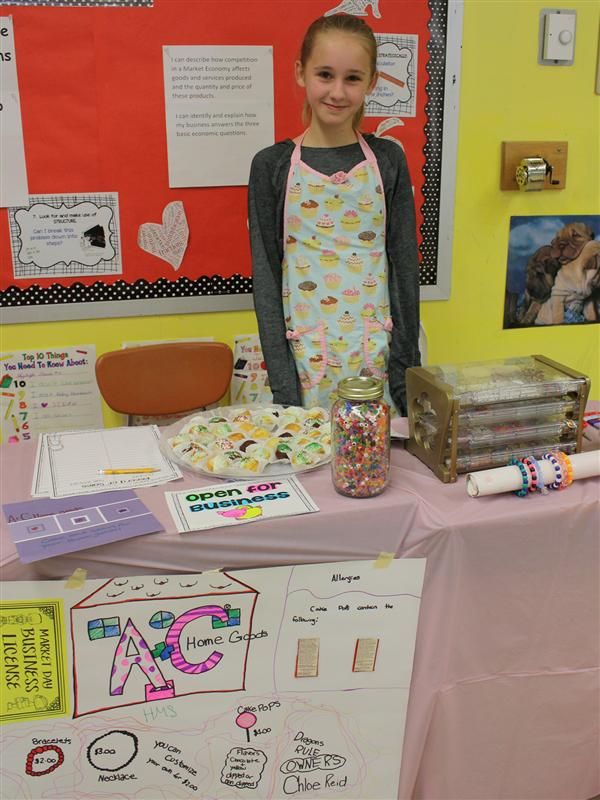 As the culmination of a social studies unit on economics, two fifth-grade classes at Hoover Middle School had the chance to become small business owners for a day as part of the first-ever "Market Day" event.
Teachers Wendy Cummins and Amy Stoerr had their homeroom students come up with their own idea for a business operating right there in the classroom. Students could make their products at home and bring them to school, or they could bring the necessary materials and make them on the spot. During two one-hour sessions in their first floor classrooms, the students tried to sell their products to other students.
Products included bracelets, baked goods, slime, stress balls, decorative seashells, elaborate bookmarks, and various trinkets. Other fifth-grade students at the school were given fake dollars so they could browse among the shops and purchase whatever they wanted. Some items, such as the homemade slime, sold out fast.
The students had a budget to work with for expenses such as renting a space in the classroom to sell their items. Economic conditions were simulated as the student sellers determined their own prices: if they were selling too fast or too slow or if their inventory was running low, they had to adjust their prices accordingly. They also had to keep track of all sales and expenditures, just like a real small business owner.
It was not only a great learning experience in economics and business ownership, but it was also a great opportunity for all fifth-grade students who had the chance to enjoy the creations of their classmates.