Return to Headlines
Edison Elementary 4th Grade Class Brings History to Live With 'Living Museum'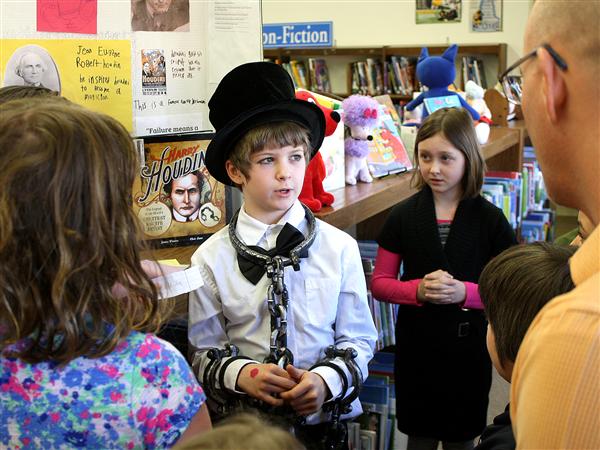 Edison Elementary School students, staff and other guests had the opportunity to learn about some of history's most influential authors, inventors, and other prominent individuals as part of the 2017 Living Museum event hosted by teacher Lisa Carver and her fourth-grade class.
As part of the project, students had to write a research paper on an individual of their choosing and prepare a short summary to recite, as well as a presentation board. They even dressed the part and were prepared to answer questions as students, staff and other guests visited their station to learn about them.
Individuals chosen included authors such as Dr. Seuss and J.K. Rowling; historical figures such as Anne Frank, John Adams, Barack Obama, and Theodore Roosevelt; human rights activists such as Coretta Scott King and Clara Barton; inventors and scientists such as Thomas Edison, Steve Jobs and Stephen Hawking; and others such as Neil Armstrong, John Glenn and Walt Disney.
The Living Museum has become an annual event. It is a great opportunity for Carver's students, who get invaluable experience in researching, writing, and public speaking. It is also a great opportunity for other students and guests to learn about different people and their contributions, and to see history brought to life by the participants.
"I feel the knowledge that my students acquire and the challenge of presenting their Living Museum subject is so beneficial that it is by far the most valuable learning opportunity of the year," Carver said. "The experience embodies reading, writing, listening, and speaking. The students ultimately gain confidence and a sense of accomplishment to achieve this final product. Unbelievably, they finished in time even with two snow days!"